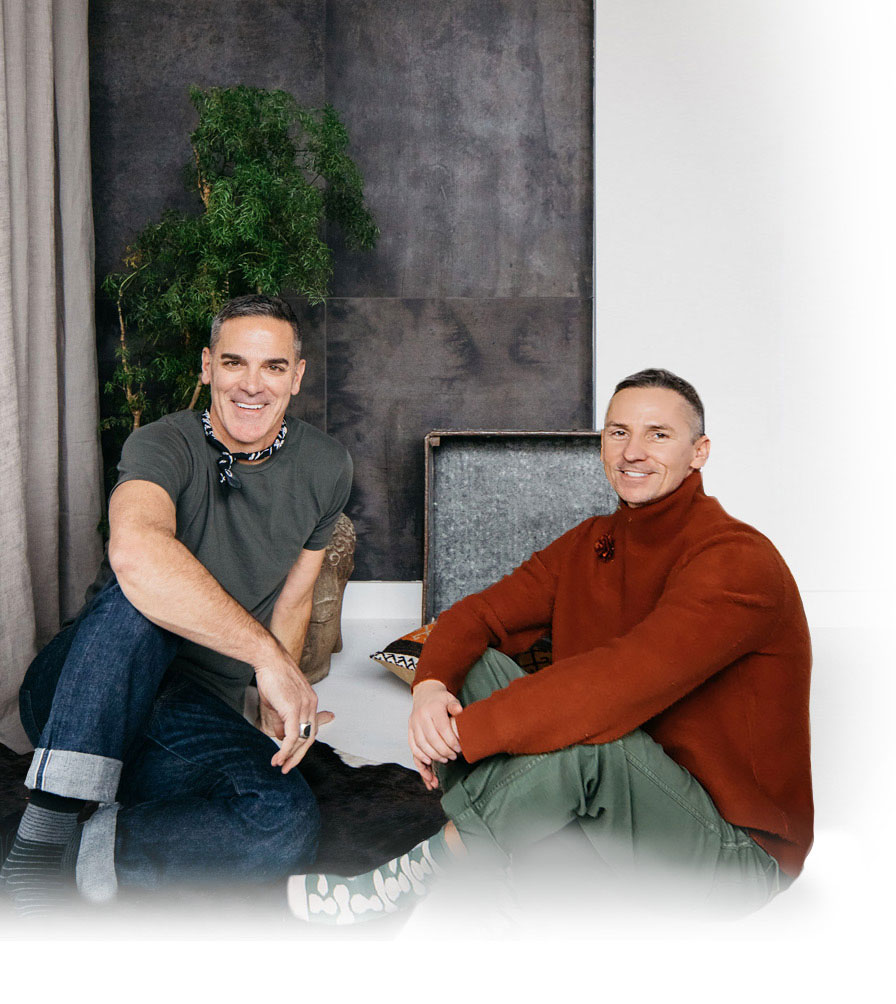 For the past 20 years, Robert DiDomenico has worked as a respected chiropractic physician — focusing on helping people achieve alignment through well-adjusted living.  Expanding on his dedication to improving a patient's overall wellness with his passion for creating beautiful living spaces, Robert founded Align Design in 2010.  He has a fundamental belief that interior design should be an authentic reflection of his client.  For him, it is all about the journey from vision to reality that defines – even transcends – the finished product.  And it's all shaped by an enthusiastic respect for the client relationship, collaborative effort and creative process.  Robert inspires the creation of sophisticated, unique environments that are livable, captivating and enduring.
Chad Ross was thrilled to join Align Design in 2019.  With over 20 years' experience in visual merchandising in both the fashion and home decor industries, he brings a unique point of view to the team.  He is particularly ardent about creating uniquely expressive spaces that exhibit a rich mix of materials, textures and colors — all working together to inspire and excite his clients.  Chad believes in being surrounded with spaces that bring joy, enhanced by a sense of peace.
'The whole is greater than the sum of its parts' certainly rings true in their dynamic partnership.  Robert and Chad's mutual talents, visions and experiences elevate their individual sense of design to a higher, more profound level.  Their collaborative approach combines shared inspiration with unique perspectives that ultimately yield more meaningful and memorable spaces for their clients.
"The Align Design experience exceeded our expectations . . . from the way we collaborated to the sourcing of unique materials and finishes for our complete condo rehab. The transformation of our kitchen blew us away, really maximizing the space and functionality. Every room was elevated with beautiful touches — featuring a new, complementary mix of furniture, paint, wallpaper and lighting. They are a dynamic team with each bringing something special to the process; pushing us outside our comfort zone, while working within the parameters of our own aesthetic. The end result was something that we look forward to enjoying for years to come."
"When I was ready to tackle my "tired" living space, I turned to Bob and Chad to get the job done. It started with a thorough assessment of my needs . . . listening and looking . . . getting a real feel for my home. When it came time to make choices, their unique creative eye for color and design, as well as placement of my furniture, was spot on. Importantly, they made the whole process enjoyable, exciting and stress-free. Thank you, Align Design!"
"Bob and Chad are truly gifted designers with a keen sense of balance and space planning. Their new layout for our living room immediately felt more open and inviting. Their color palette is so sophisticated — and Align Design is my 'go to' when choosing the perfect combination of colors. I've used their services for two houses and couldn't be happier with the final results."
"These guys are wonderful to work with! They took the time to listen to our needs, ask the right questions and provide design recommendations that were right on the mark! We really appreciate how they helped to move us a bit beyond our comfort zone — introducing some interesting, new pieces that complemented and enhanced many pieces that we already owned and loved. Highly recommend this team of great designers and collaborators!"
"As designers, we all try to push our clients into a mindset that is open to a slice of something new, fresh and unexpected. Align Design has that special talent. They continue to surprise with their dynamic mix of traditional and vintage — highlighted with a touch of modern. It's a rare cross-reference that requires a talented, experienced eye to get the mix just right. Walking into a room created by Align Design, I feel like I can move right in — it's comfortable, welcoming and chic, with just enough edge to make it cool at the same time. I'm a big fan!"
Lori Hubers
Summer White Interiors

COPYRIGHT 2023